Position: Home > Product > CHICKEN BIRDS FARMING EQUIPMENT > Chicken drinker
Product Description
1.Made up of best plastic, light in weight and long life span in usage.

2.Save water, good structure design---removable lower parts for easy cleaning.

4.Convenient to dissemble and use.Item is easy to install in PVC pipe, a five gallon pail bucket or container.

3.Automatic drinker, ball valve 360 nipple and high sensitivity. Each unit has a 360 degree stainless steel nipple head that will work from any angle.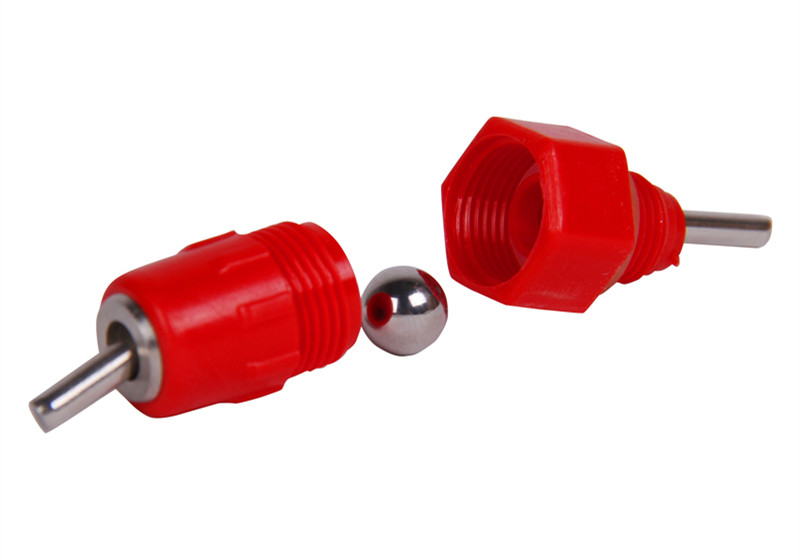 1. Use drill bit size 11/32" at low rpm for PVC, bucket or container with thick plastic wall.

2.For other think plastic like re-used water bottle cap, using drill bit size 5/16" is recommended.

3.Use a little silicone or thread tape and screw nipple into the drilled hole.

4.Recommends 1 nipple for 2-3 chicken/birds.

5.Water nipples only work under low pressure ( 5.5 psi or less ). Do not conect directly to a garden hose ( house water pressure is around 30 to 75 psi ). If you want to have it connected directly to a garden hose then a water pressure reguator is required.
Product Parameters
| | |
| --- | --- |
| Name | Screw type poultry water nipples |
| Model | YL5328 |
| Size | 4.5cm |
| Material | Plastic & Stainless steel |
| Weight | 9h |
| Package | 100pcs/bag |
| Type | screw type ball valve drinker |
| MOQ | 1000pcs |

Please fill in your procurement needs and contact information