Position: Home > Product > CHICKEN BIRDS FARMING EQUIPMENT > Chicken shed cooling equipment
Product Description
1. Using high-quality stainless steel, stamping forming blades,smooth, durable, energy saving, used for factories, shopping malls, garden house, and other places.
2. Shutters automatically open and close to achieve dustproof, waterproof, beautiful; can be used as a blower or ventilation.
3. Customized dual-network fan or dual-network & ventian type fan for special situation. Dual-network fan mainly used in large indoor space, enhance air convection. Dual network & venetian type fan used for the lower level workshop, not easy to access the blades, safe and effective.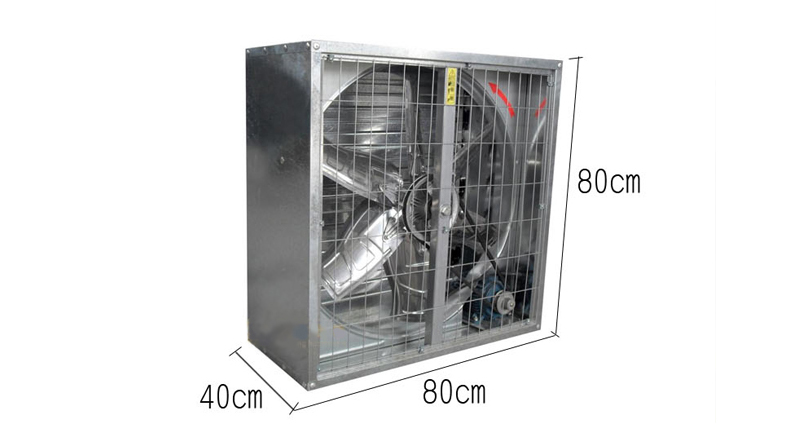 Accessories:
Fan blades, motor, frame, grille, support stand, shutters and other components.
Motor-driven fan generated airflow. Window-blinds can be automatically open and close to prevent outdoor dust and foreign matter from entering, also avoid the impact of rain, snow and wind.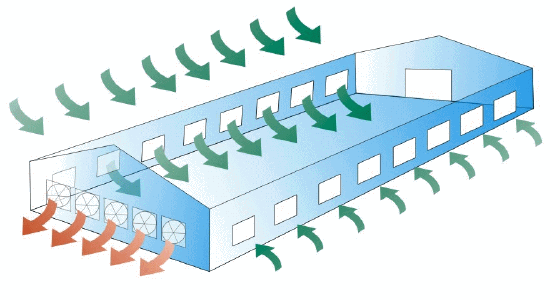 Features:
Outer frame used advanced automatic numerical control equipment processing, high precision;
Special thick galvanized layer, anti-corrosive;
High-strength aluminum alloy die-cast wheel hub, the new stamping twisted blades;
Reasonable airfoil angle can reach the maximum air flow;
Precision microcomputer aided manufacturing system allows the fan to maximize performance.
Product Parameters
| | | | | | | |
| --- | --- | --- | --- | --- | --- | --- |
| Size | Thickness | Thickness of shutter | Thickness of fan blade | Air flow | Area | Voltage & Power |
| 60*60*37cm | 0.7mm | 0.35mm | 1.2mm | 20000 m³/h | 50-60 ㎡ | 380v 370w |
| 80*80*40cm | 0.8mm | 0.4mm | 1.2mm | 22000m³/h | 60-70㎡ | 380v 370w |
| 100*100*40cm | 0.8mm | 0.4mm | 1.2mm | 28000m³/h | 70-90 ㎡ | 380v 550w |
| 110*110*40cm | 0.8mm | 0.4mm | 1.2mm | 32500m³/h | 80-100 ㎡ | 380v 750w |
| 138*138*40cm | 0.8mm | 0.4mm | 1.2mm | 44000m³/h | 120-150 ㎡ | 380v 1500w |
| 153*153*40cm | 0.8mm | 0.4mm | 1.2mm | 55800m³/h | 130-160 ㎡ | 380v 1500w |

Please fill in your procurement needs and contact information