Position: Home > Product > CHICKEN BIRDS FARMING EQUIPMENT > Chicken shed warming equipment
YL7154 chicken gas heating machine
| | |
| --- | --- |
| Brand Name | Yinglian |
| Model | YL7154 |
| Product name | Chicken shed gas brood gas heating machine ceramic infrared gas heater |
| Installation | Wall Mounted |
| Gas type | Natural Gas, LPG, Biogas |
| Heat sourcing type | Ceramic infrared gas heater |
| Application | Bedroom, Garden, poultry house, etc |
SHARE WITH:
Product Description
Application of ceramic infrared gas heater
1. Poultry-livestock heating: widely used in poultry heating, farrowing, nursery, grower-finisher, wean-to-finish
2. Commercial Heating of sports hall, church, terrace, garage, exhibition hall, public building
3. Industrial Heating: industrial building, workshop, vehicle repair, warehouse.
Experience data for poultry farm:
A gas heating machine ceramic infrared gas heater can heat for more than 600chicks;Height from ground is usually 0.9m~1.5m
Poultry gas heater material
Shell: heat-resisting aluminized steel
Inner plate: cordierite honeycomb plate with rare-earth catalyst-coated (black)
Safe switch: copper flame-out protection device, automatic ignition system.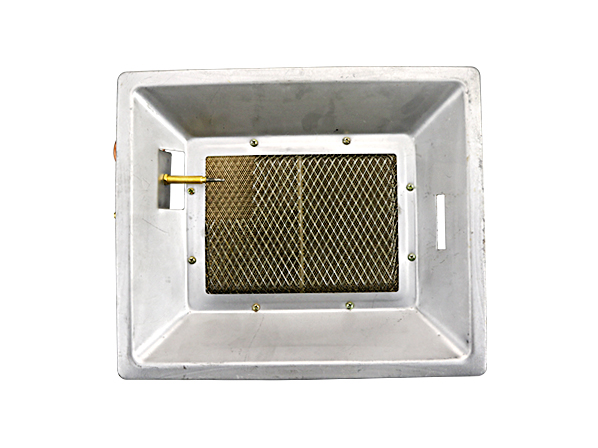 Based on catalytic technology, we manufacture one model gas heater for poultry house, with two ways to ignition: manual ignition (THD2606) and auto-ignition type (THD2608).

Product Parameters
Name
Chicken shed gas brood gas heating machine ceramic infrared gas heater

Heat sourcing type


Ceramic infrared gas heater
Application
Bedroom, Garden, poultry house, etc
Weight
1.7kg
Advantage
Overheat protection, environmental energy
Dimension of ceramic infrared gas heater
(L*W*H)320*270*130mm

Please fill in your procurement needs and contact information