Position: Home > Product > VETERINARY INSTRUMENT > Automatic continuous syringe
Product Description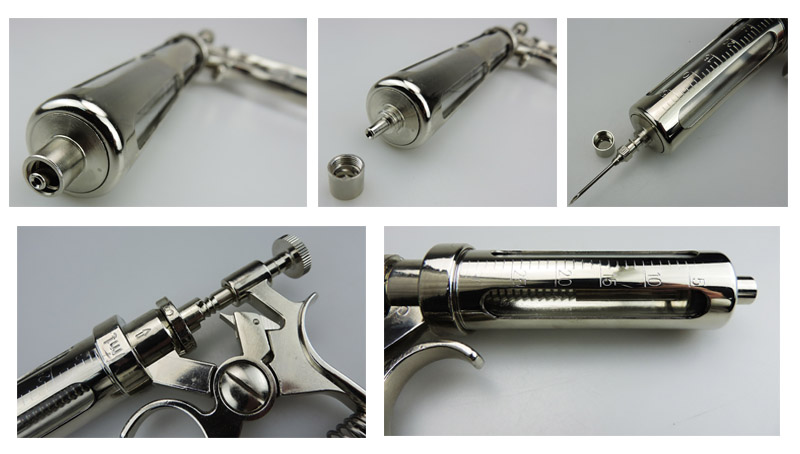 Auto injector syringe
Auto injector syringe Features:

All metal parts in Revolver Syringe are made of brass and stainless steel material, nickel or chrome plated; with calibration marks on glass barrel; perfect dose adjustment; suitable for the inoculation of livestock. Clean well and oil with silicone oil , Regularly replace washers.

1. Auto injector syringe Strongest Sucking/pumping power,robust/accurate design and produce process,stable serving performance.
2. Excellent Reposition Spring and Piston,Save energy for operation,smart practical withdraw labour-saving devices.
3. Solid Materials including top quality Brass component of the tools, durable service life.
4. Easy for clean and maintain,fixed settings for ease and speed of using,endure high temperature and chemical-corrosion.
5. CNC Lathes controled production,Outstanding sealing ensured pretty precise dosage control,resistant to medicine wasting and shattering.
6. Adjustable dose control, repeat sucking when full capacity finished, Double insurance for fixed needle with the stationary metal bushing and LUER lock.
Technical Parameters
| | | | | |
| --- | --- | --- | --- | --- |
| Name | Auto injector syringe10ml | Auto injector syringe 20ml | Auto injector syringe 30ml | Auto injector syringe50ml |
| Model | YL6732 | YL6733 | YL6734 | YL6735 |
| Capacity | 10ml | 20ml | 30ml | 50ml |
| Feature | 5 grade, with lure locker | 5 grade, with lure locker | 5 grade, with lure locker | 5 grade, with lure locker |
| Material | brass and stainless steel | brass and stainless steel | brass and stainless steel | brass and stainless steel |
| Dosing range | 0.4-2ml | 0.5-2.5ml | 1~5ml | 1-5ml |
| Application | Veterinary Injection | Veterinary Injection | Veterinary Injection | Veterinary Injection |

Please fill in your procurement needs and contact information