Position: Home > Product > VETERINARY INSTRUMENT > Automatic continuous syringe
Product Description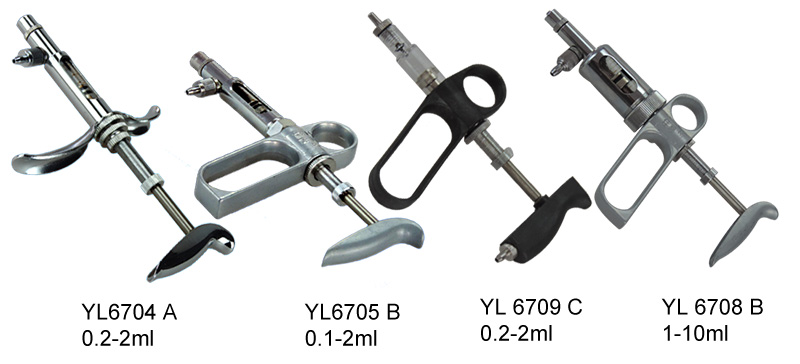 Continuous syringe pump

Continuous syringe pump Features:
1.Light weight
2.Easy to use for animal inject
3.Flexible operation
4.Accurate measurement
5.Different does are available
6.Veterinary Continuous Injector

1. Continuous syringe pump Using direction:

I. Insert both aspirating needle and vent needle into bottle, connect the aspirating needle with joint by catheter.
II. Rotate adjustment wire to the position, align ruler line with scale, drive syringe continuously, set the desired dose position after the syringe is full of liquid medicine. You can use it as long as you lock the locking cap.

2. Disinfection method

First, fill the injection syringe with water and then put the syringe into a pot and boil it for about ten minutes before using. (Attention, keep the syringe above the bottom of pot) Pour out the water inside the injection syringe until it is dry.

3. Maintenance method

Use clean hot water to clear the vaccine syringe for several times until there is no residual water or liquor in the injection syringe. Clean the syringe appearance and store it in dry place.

4. Notice

I. Poor drug absorption phenomena may occur after automatic vaccine syringe is placed for a long time. You can deal with that by separating rubber valve from joint or cavity or you can check the rubber valve and clean it.
II. Piston return slow phenomenon may appear after long term use. You can improve it by smearing a little vegetable oil inside the cavity wall or O ring or just changing a new O ring.
III. The seal should be tightened when clean or change the accessories.

Technical Parameters
Name
Continuous syringe-A
Continuous syringe-B
Continuous syringe-C
Continuous syringe-B
Model




YL6704
YL6705
YL6709
YL6708
Capacity
2ml
2ml
2ml
10ml
Dosing
0.2-2.0ml
0.1-2ml
0.2-2ml
1-10ml
Feature
Adjustable and continuous
Material
Stainless steel, copper
Stainless steel, copper
Stainless steel, ABS
Stainless steel, copper

Please fill in your procurement needs and contact information